CRIMSON LOCKER IS THE BEST! The Bowtie Pattern Mascot t-shirt is my favorite! But so are all of the t-shirts I've gotten from The Crimson Locker. Biggest selection, fast shipping, and great customer service. Y'all are my go to store for all things Alabama. Roll Tide Roll!
Alice K.
Such quick fulfillment of orders and great quality shirts! Also, very easy to deal with when needing to make a return. I highly recommend this company for all your Crimson Tide fan gear needs.
Sharon S.
I have purchased several T shirts from The Crimson Locker. Their designs are sharp and unique. "Rat Poison" was a classic along with the two designs I just bought (Alabama set the record straight" and "A is enough"). Shipping is so quick!
Anonymous
ROLL TIDE SANTA HAT TEE They just arrived today, I bought two, one for a gift and one for myself. I love this shirt!!! This is not the first time I've ordered from you, and I must say you never dissappoint! Great quality for a fair price, and speedy delivery!!! Thank You!!! Roll Tidings!❤️🐘🏈
Beckie C.
CRIMSON LOCKER IS AWESOME! The merchandise is top notch, the shipping is fast, GREAT place to do business with! Alabama Reindeer shirt is cute, well made, great design!
Karl K.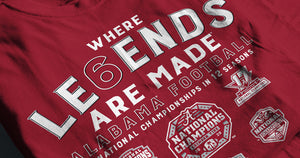 Welcome to CrimsonLocker.com
We're located in Birmingham, Alabama and are a proud officially licensed vendor for the University of Alabama. We have a great selection of original Bama apparel you won't find anywhere else!
Learn More